Business Capability Mapping to Accelerate Digital Transformation
There are many ways to take on organizational transformation initiatives. The larger the scope of the overall initiative or project portfolio, the more elements need changing. And how do you eat an elephant? One bite at a time. Organizational transformation is easier and more agile when undertaken in smaller steps. Creating separate projects helps to achieve the business objectives – but this often means more, decentralized departments and teams are involved to make digital transformation happen. Aligning these various teams can be difficult – each have their own agenda, way of working, processes, and IT landscapes. So what is the best approach to foster agility and accelerate the overall transformation effort? Componentizing the elements needed to complete projects – and taking a business capability mapping approach – is often the answer.
To help illustrate how taking a business capability mapping approach to your Enterprise Architecture can accelerate transformation initiatives, we hosted a webinar called Rethinking Enterprise Architecture: Capability Mapping as a Foundation to Accelerate Digital Transformation. Brenda Cowie, SVP Sales & Strategic Partnerships, and Tom de Ridder, Principal Pre Sales & Platform Architect, explained the foundations of this approach and how theory meets practice in our platform BlueDolphin.
What is a business capability?
Put simply, a business capability is essentially something an organization needs to be able to 'do', to execute on its overall mission, vision, and strategy.
This is a broad description that Tom simplified during the webinar using the following analogy: Let's say you want to jump. The act of jumping is the capability. But to do that, you need your knees, joints, and muscles to execute the capability. Linking this to Enterprise Architecture, capabilities can be seen as 'containers' that consist of specific business actors, processes, applications, data, and technology.
Identifying business capabilities
It makes sense for architects to start by identifying the organization's current business capabilities as well as the necessary future state capabilities. Creating a high-level capability map is a good place to start.
Tom asked our webinar audience whether their organization already has a capability map in place, and the results showed that capability mapping is certainly on the agenda of many architects and IT leaders. 60% are already working with business capability map(s) to at least some degree, and only 10% of the audience was not at all familiar with the concept.
From simple business capability map to reference capability model
Mapping business capabilities usually happens from a higher level to a lower level. There are a variety of different ways to visualize and group business capabilities. Many organizations use market-specific reference frameworks or mix that with their own insights to create a model. The good news is that here at ValueBlue we have a variety of reference frameworks and models, as well as best practices from across different industries, to share.
Let's take a look at the capability model example Tom shared during the webinar: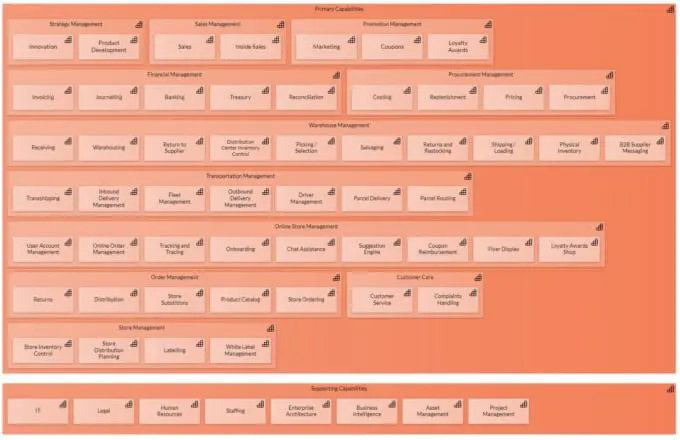 The business capabilities in this model have been grouped into 'primary capabilities' and 'supporting capabilities'. Within these two categories are the individual capabilities that comprise the full supply chain, further mapped into sub-capabilities. For instance, Financial Management as an overall business capability requires certain sub-capabilities such as Invoicing, Banking, and Treasury. In this reference model these business capabilities are shown as a decomposition of all aspects the organization needs to execute its business model.
Business capability models enable you to organize the business and its underlying layers of architecture to create a value stream. The layers of architecture are the structure, processes, applications, data, and technology found within the organization – and these all need to be mapped to the business capabilities they support.
Mixing and matching capabilities
It's highly likely that multiple departments, teams and projects have similar structures, processes, applications, and technology to store their data. Many of these architectural layers will support multiple different projects. For example, in the retail example above, the same application will likely be serving both the 'customer service' and 'complaints handling' capabilities. In the same vein, it's probable that this organization has a CRM system in place that is enabling both the 'sales management' and 'marketing' capabilities. A single process may support multiple departments or projects. This is where a comprehensive, interactive business capability model proves its worth.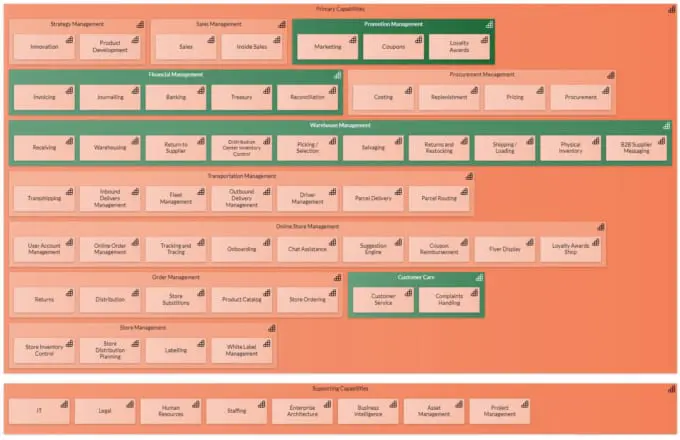 As Tom shows in the webinar, creating your capability model(s) in BlueDolphin enables you to determine these underlying relationships and characteristics for individual capabilities, as well as identify overlaps and dependencies. Filtering on the strategic goal of 'move towards online shopping' will instantly highlight the impacted capabilities, as Tom demonstrated in the webinar, and as shown in the image below. In the legend, he selected the strategic goal "move towards online shopping" and instantly the management capabilities Promotion, Financial, Warehouse, and Customer Care popped up. This helps to quickly determine the scope of an initiative, its business impact, the potential risk, and and relevant stakeholders.
While the example shown here only provides insights at a high level, in the webinar Tom shows you what this looks like as we drill-down into the architectural details– so we highly recommend checking out the replay.
The right capability map will further your transformation initiatives
In short, creating a comprehensive capability model will support your business transformation efforts in multiple ways. It provides the insights you need to align different departments on common organizational goals when starting new initiatives, by visualizing the potential overlap and capabilities needed to achieve strategic objectives. This feeds and drives the setup and prioritization of new initiatives, as well as keeping taps on running projects – making sure all organizational initiatives are helping to execute the mission and vision.
Brenda and Tom go into much more depth during the webinar, explaining and demonstrating how a capability map is built, the purpose it serves, and the value it can bring for different scenarios such as the digitalization of processes or mergers and acquisitions. Watch their inspirational webinar for the full story.
Webinar: Rethinking Enterprise Architecture: Capability Mapping as a Foundation to Accelerate Digital Transformation replay
Want even more webinar content to help you accelerate business transformation in your organization? Be sure to register for the next webinar in our Rethinking Enterprise Architecture series: How to govern an explosion of microservices and low-code apps!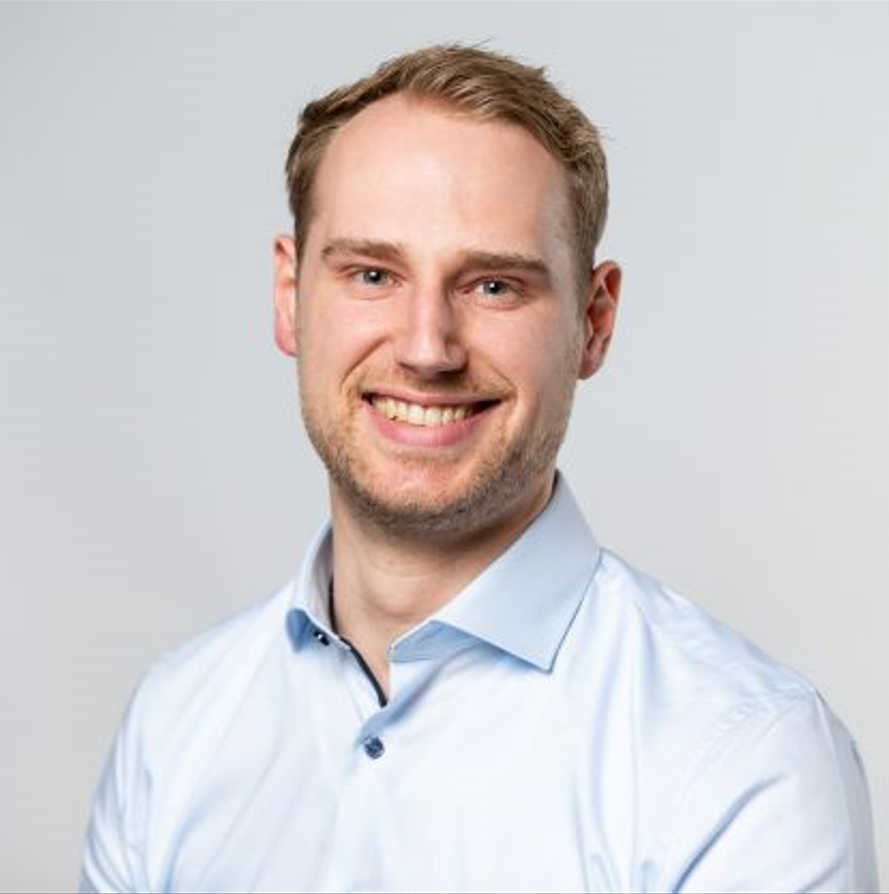 Author:
Sebastiaan Bosman
Sebastiaan Bosman is Product Content Marketer at ValueBlue. He is responsible for communicating about BlueDolphin and its value and use cases for Agile Business Transformation. Previously, Sebastiaan has worked in similar roles in Cybersecurity and Financial Services.