Transform 2022 Part II- Streamed Sessions
This blog is part two of our series highlighting the different sessions at Transform 2022. For a closer look at our morning tracks and session highlights, see part I. In that blog, we ended just before the start of the afternoon program. At this time, the event will start being live-streamed so that anyone not able to come to Amsterdam can join the fun as well.
The afternoon will kick off with our keynote Once Upon a Future.

With almost 30 years of experience as a thought leader, international serial entrepreneur, educator, and impact investor Veltenaar helps people and organizations create a better, more sustainable world and a just, inclusive society.
The world is amidst an irreversible change. What will the next phase be? In this keynote presentation, Ruud Veltenaar takes attendees on an expedition to the emerging future of digital transformation. He explores the drivers behind this upheaval, and more specifically: how technology acts as a driver of innovation.
After this insightful keynote, afternoon sessions will be split across three tracks. Here's what these tracks are all about.
About the Tracks
The afternoon has been built to cater to a specific stakeholder in the business. Many of our afternoon sessions will be presented by BlueDolphin customers showing the value they got from the platform.
Afternoon Track 1 – Digital Transformation for the C-Suite
Track one is a strategic track for an organization's C-level members. Some of the featured topics are identifying opportunities to increase the effectiveness of your projects, the disruptive approach to transforming value chains, and continuously adapting your strategies to the market.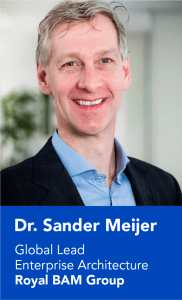 Running an Effective Enterprise Architecture Practice in an Entirely Evolving Industry
This session features ValueBlue customer Dr. Sander Meijer, Global Lead Enterprise Architecture at Royal Bam Group. Sander will share his experience on:
Leading a multinational team through a digital transformation
Uncovering opportunities for innovation
Guiding a transformation as your entire industry is changing as well
Afternoon Track 2 – Architecting your Organization for the Future
Track two also has a strategic focus but is focused more on the architect's role in an organization. Some topics of interest are delivering insights, solution architecture, and the expanding impact of an architect's role.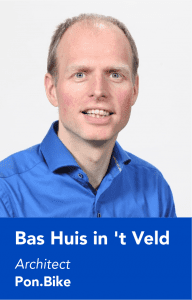 Creating a Blueprint for Expansion Success with Pon.Bike
This session features ValueBlue customer Bas Huis in 't Veld, Architect at Pon.Bike. Bas will share his experience on:
Transforming your business from a national to a multinational organization
Finding key learning amidst your abundance of data
Utilizing BlueDolphin to be more agile and cost-efficient
Afternoon Track 3 – Optimizing your Current State for Agility
Our third and final track will focus on how customers operationalize BlueDolphin to create more agile IT landscapes. Some topic examples are progressive enterprise architecture and how to expand the impact of architecture in an organization.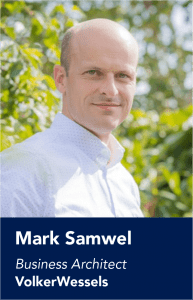 What Creating Customer Value Really Looks Like: A Peek Inside VolkerWessels' Transformation Program
This session features ValueBlue customer Mark Samwel, the Business Architect at VolkerWessels' Transformation Program. Mark will share his experience on:
Creating best practices and implementing them across your organization
Quickly executing a digital transformation
Increasing value to the customer, reducing costs, and improving project control
Following the sessions, there will be a closing round table. The round table will feature a mix of afternoon speakers and ValueBluers. For those attending live there will be networking drinks to follow.
To get your free ticket or learn more about the event go to the Transform 2022 website.