ValueBlue Wins the 2022 Digital Innovator Award from Intellyx
New York; Utrecht — May 27, 2022: Intellyx, the analyst firm dedicated to digital transformation, today announced that ValueBlue has won the 2022 Digital Innovator Award.
As an industry analyst firm that focuses on enterprise digital transformation and the leading edge vendors that are driving it, Intellyx interacts with numerous innovators in the enterprise IT marketplace. To honor these trailblazing firms, Intellyx's 2022 Intellyx Digital Innovator Awards puts a spotlight on vendors worth watching.
"At Intellyx, we get dozens of PR pitches each day from a wide range of vendors," said Jason Bloomberg, President of Intellyx. "We will only set up briefings with the most disruptive and innovative firms in their space. That's why it made sense for us to call out the companies that made the cut."

We are very happy to have won the Digital Innovator award. We strive to constantly develop our strategy, product, and service to move with, and stay ahead of the market trends. As our customers' transformation initiatives grow, so too do we search for new and improved ways to help CIOs and Enterprise Architects accelerate business transformation through agile, data-driven intelligent collaboration.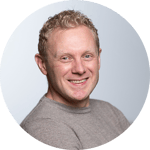 "Innovation is at the heart of everything that we do at ValueBlue," said Jordy Dekker, Chief Evangelist at ValueBlue. "Our mission is to enable every organization to generate more value from digital business transformation – so we're thrilled to be recognized by such a specialized digital transformation analyst firm as Intellyx as 'one to watch' for our innovation efforts."
©2022 Intellyx LLC. At the time of writing, ValueBlue is an Intellyx customer. To be considered for a briefing–and hence a Digital Innovator award–and use the authorized award badge, please contact Intellyx at pr@intellyx.com.
For ValueBlue media enquiries, please contact Danielle Perez at Firecracker PR.