The 3 key enablers for Application Portfolio Management that will speed up digital transformation
The digital enterprise is no longer a goal to aim for or a far-off, future based concept. The digital enterprise is here, it's now, and if your organization isn't ready, it's time to fight or leave the party.
The customer journey has changed – from end-to-end – and it will continue to do so, continually, as technology advances happen faster than you or I can fathom.
Those who enable the most basic of digital capability 'hygiene factors' (let's think of basic online ordering capabilities for retailers, mobile-optimized assets for consumer services or omnichannel marketing efforts) have a chance of remaining players in the game.
But it's those stepping into transformation efforts with full force that will win the game.
Adapt or die
Organizations that are ready to make full digital pivots like adapting their revenue streams, harnessing their data and implementing a flexible, agile technology infrastructure that supports continuous innovation.
Perhaps unsurprisingly, in a recent report by Deloitte, research showed that organizations with higher digital maturity (defined by the degree to which respondents reported business benefit in the form of driving positive growth) execute an average of twice as many digital transformation projects (or 'pivots') as lower maturity organizations.
In a conversation with Forbes, Deloitte's chief digital officer and head of innovation, Ragu Gurumurthy, noted that there are three digital transformation capabilities that are absolutely foundational when it comes to enabling successful and full digital transformation – data mastery, talent, and – you guessed it – technological infrastructure.
"The first things companies should do is focus on data mastery and infrastructure, as well as their talent."
---
Technology infrastructure as a core foundation for digital transformation
"In terms of infrastructure, companies need to create flexible and secure systems that are able to balance security and privacy with the need to flex capacity as business demand changes."
In fact, the data collected by Deloitte shows us that more than 60% organizations with higher digital maturity have implemented technology transformation across at least 5 business functions, as opposed to a mere 15% of lower maturity companies.
"It's about creating a secure environment, where you can launch applications fast and remove the friction in your operations, and think about how you interact with your customers – this is made possible by investing in and understanding your data infrastructure."
---
Application Portfolio Management (APM) as the foundation that can support transformation
So let's dive into how we can achieve this.
We know that to keep up and remain competitive, our organizations need to be agile, adaptable and capable of continuous innovation. This means, at a baseline level, executing active and constant application portfolio management – eliminating overlap, mitigating risk and most importantly, increasing your organization's flexibility.
Organizations with complex and unmanaged application landscapes will fall at the next digital transformation hurdle. Application Portfolio Management (APM) is the first step in creating an organizational structure that's not only ready to support change, but can actively enable it. A lean and purpose driven application landscape allows organizations to transform fast. Having decision-ready insights about all the applications in your portfolio allows you to easily detect risks and opportunities for improvements that can improve you business.
Making it happen, on the other hand, is somewhat more of challenge.
It takes a village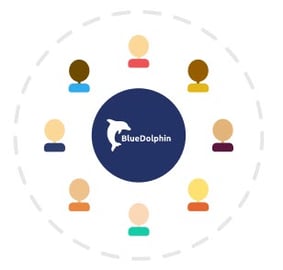 Successful digital transformation requires successful cross-functional teams.
The need to deliver innovative, customer-centric experiences – faster – requires IT departments to reassess how they manage technology.
According to CIO, "CIOs no longer expect IT staff to conduct projects in a linear fashion, with technologists essentially working as if they were on an assembly line. Instead, they're working collaboratively with each other and with professionals throughout their company to jointly build solutions."
Of course, we all recognize the challenges that come with realizing cross-functional IT collaboration that actually works. It requires individuals to set aside personal agendas, recognize the priorities of others and try to 'speak' in a 'language' that their cross-functional peers can understand.
Failure to manage these core elements of collaboration comes back to bite us in the form of slow, or even stagnant, progress.
Hilary Brooks, Digital Strategist from digital transformation solutions provider Forum One confirms that cross-functional collaboration is key to successful digital transformation strategy, highlighting the need for IT functions and their peers to create feedback channels, build trusted relationships and build alignment.
With this in mind, it's clear to see that for successful digital transformation, it's vital to establish ways of working that foster collaboration, and utilize technology that supports teams in breaking down siloes.
As you've probably experienced, gathering the data you need to accurately review and monitor your organization's application landscape can be challenging, at best! A lack of centralized information means architects' time is so often spent chasing colleagues and peers for insights, leading to outdated and often inaccurate information about your applications. You just can't do it alone.
Collaboration capability within your architectural tooling is the answer here. By creating one source of truth within your organization – where every stakeholder has skin in the game – you set yourself up for a host of efficiency benefits and cut out the torturous task of data gathering.
Prioritizing with one eye closed?
Context is key. To prioritize the right digital acceleration initiatives or even work on rationalization, you need a true and comprehensive view of your application landscape. Not only does this mean accurate information, all the time – it also means wider context for your application data outside of licensing, costs, performance and usability. Understanding the processes supported by each application, their functionalities, as well as how they relate to each other and your organization's key capabilities is vital for a complete overview. How can you determine the impact of changes without a full view of each application's context and how they fit into your organization's goal architecture?
In summary
To sum up, there are three key enablers for Application Portfolio Management that is truly fit for an organization with transformation goals:
A complete overview of your landscape

Collaboration capability within your tech

Insight into the wider application context
Without these, your APM efforts will continue to be unnecessarily time-intensive and less than effective. You'll struggle with missing and inaccurate data, suffer a blinkered view of the application landscape and miss out on the wider, richer context of the landscape as it pertains to the organization.
Are you looking for all information on APM in one place? Download the Ultimate Guide to APM for all insights into the new approach to APM.